Pokies Tournaments: A Competitive Pokies Option
Pokies, more formally known as slot machines, have been trendy in New Zealand and beyond in land-based and online casinos for the last few decades! Even though playing slots seems like an individual activity, the innovation of pokies tournaments has been met with much enthusiasm by players worldwide.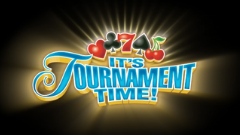 Top Pokies Tournament Online Casinos
When you play at a casino via one of our affiliate links, we may earn a small fee.
What are they, and how do they work?
Pokies tournaments are slot game competitions set up by online casinos and casino software providers, giving players from around the world a chance to play against each other.
These tournaments work in such a way that you play against other players in real-time. An initial prize amount is offered to the winner, but it increases with every player who steps in to play, so it is essentially a progressive jackpot. Monitors should appear at the top of your screen while playing in a pokies tournament, which should tell you your current position at all times.
Types of Pokies Tournaments
Various types of tournaments are available, and certain types can overlap with others. For example, a game can be both buy-in AND same-day. The six primary, although their dozens, categories include:
Freeroll
As the name suggests, these tournaments are free of charge. They are usually offered to players who frequent online casinos as a sort of incentive or prize of sorts. Freeroll tournaments are also often a form of promotion for a new online slot game or company sponsorship of the award. They may be invitation-only or open to the public.
Buy-in
These tournaments are almost always open to all players, although some are limited to certain countries. In these tournaments, an entry fee contributes to the overall prize amount.
Same Day
The same Day tournaments are very popular because there is always a winner by the end of the day! A monitor on the screen will display a countdown timer and your current position in the tournament. If you are number 1 when the timer hits 00:00, you are the winner!
Ongoing
These tournaments take a little more commitment as they can expand to the length of a week or sometimes longer. Depending on your bankroll and the time available to put into the tournament, you may have to use some strategy to outplay the other players.
Sit-and-go
This type of tournament only commences once the minimum amount of players have registered, so it is a good idea to be on call and ready to start playing at any given moment.
Scheduled
These are essentially the opposite of sit-and-go as there is a definitive start and end time to these tournaments.
General Tips
The first guideline to heed is only to enter tournaments for which dates you are available. There is no use in joining a game you cannot give the necessary time and attention to. Choose a time when your calendar is clear to play a tournament to give you the best chance of winning.
The more spins you make, the better your chances of winning. As you may know, slots require minimal strategy, so a good tip is to keep pressing that spin button!
It is of utmost importance to remember that even if you play a Freeroll tournament, you still pay per spin, and this requires you to know how much you're willing to spend and keep your bankroll in check.
How to Play in a Pokies Tournament
There are so many different tournaments and casinos to play these tournaments at that it is difficult to provide a single guide that covers all of them. But for convenience, let's assume you'd like to play a tournament at the Royal Vegas online casino. You'll have to do the following:
Download the necessary software needed to play at Royal Vegas
Create an account and log in to your account
Click on the Games View button at the top of the screen and let the menu dropdown
Now select Tournaments to see the current tournaments that Royal Vegas has on offer
Find a tournament that suits your needs and fill in and go over the rules, details, and guidelines to make sure you are aware of everything the game entails.
When sure, click Join and create a screen name for the leaderboard rankings.
Who Provides Pokies Tournaments?
Microgaming is a massive name in the world of NZ online casino gaming, as it is one of the top software providers, so it is no surprise that they are also heavily involved in pokies tournaments and probably the biggest provider of these tournaments. This means that most Microgaming-powered casinos should have pokies tournaments, and the slot games played will often come from Microgaming too.
However, Microgaming is by no means the only software provider involved. NetEnt casinos, Playtech, Thunderkick, and Playtech, have all hosted their fair share of tournaments, and providers often team up to provide a unique tournament experience for players.
How to Use Bonuses to play in Tournaments
Certain casinos offer welcome bonuses in an attempt to gain more new players. Some of these bonuses may come in the form of several Free Spins in the slots, or a certain amount of credit added automatically to your bankroll to do with what you please. In these instances, you can often use this welcome offer credit to pay for your entry in a pokies tournament. If the game is free, you could use this credit to pay for your initial spins within the match itself. In some cases, it may be possible to use Free Spins' welcome offers similarly.
A great option to pick from is sky casino online, with everything an NZ player can want.
By using bonuses, you lower your expenditure, putting you a step ahead of competing players!
FAQs
Participating in pokies tournaments is a thrilling and cost-effective way to enjoy extended gameplay. With a one-time entry fee, players have the opportunity to win substantial prizes, creating an exciting and rewarding experience with minimal risk.
The duration of online pokies tournaments can vary greatly, ranging from a few minutes to several weeks or even longer. For example, at LTC Casino, each stage of the pokies race lasts one week, followed by the start of a new stage.
Online pokies tournaments are a fun addition to your gambling experience, but don't expect guaranteed wins or riches. Enjoy them for the entertainment and competition they provide.
No, pokies tournaments are not rigged if you choose reputable casinos. Trustworthy casinos ensure a fair and unbiased gambling experience for players.
To enhance your gameplay and strategy, it's recommended to start with daily freeroll slot tournaments or play free pokies. This allows you to practice and assess the effectiveness of various slot tournament strategies.