Online Blackjack: The Whole Story
Blackjack originated in French Casinos as far back as the 1700s and is still strong.
Blackjack is one of the most famous and popular casino games of all time, with over 140 countries worldwide offering Blackjack in their casinos. Blackjack is the only casino game that can be won and is straightforward to play.
The game is played with a deck of 52 cards and up to 8 players, who play not against each other but against the dealer. In front of each player is a space to place bets; each table will have its minimum and maximum bets. The game's object is to get as close to 21 as possible while having a higher number than the dealer but never going over 21.
At the end of each hand, you can either lose, where the dealer will take all, or win and take as much as you bet. The average house edge is 8 percent, but players with skills and knowledge can turn that edge into just 0.5%.
Best Blackjack Casinos
When you play at a casino via one of our affiliate links, we may earn a small fee.
Rank
Casino
Review
Bonus
Info
Visit
1.

Guts Casino

$500

+ 100 Free Spins

Focus on live blackjack tables with many VIP blackjack tables

Play Now
2.

Jackpot City NZ

$1600

Impressive number of blackjack variations, perfect for experienced players

Play Now
3.

Dunder Casino NZ

$50

+ 50 Free Spins

30+ blackjack games on offer including Gold Series blackjack tables

Play Now
Blackjack Rules and How it Works
Firstly, each player in the game must decide how much they want to bet on the game. Minimum and maximum bets differ from site to site but usually accommodate various players.
Each player is dealt two cards at the beginning of the game, usually face up. The dealer also deals two cards for himself, one facing up and one facing down. The best possible cards to be handled would be an Ace and a 10-point card; this is a natural 21 or a 'blackjack' and results in an automatic win for the player.
The game continues with each player deciding whether to stand (keep their cards as they stand) or hit (receive another card from the deck). Players can hit until they feel their hand is strong enough or until they go over 21 points, resulting in a bust (an immediate loss).
Once all the players have made their final calls, the dealer turns over his face-down card. If he has Blackjack, he will obviously win; if not, he can choose to stand or hit until he feels comfortable with busts. The dealer must hit if his points are lower than 17.
Suppose the dealer goes bust, all the players in the game win. If not, the player with the closest score to 21 wins while all the other players lose.
Blackjack Strategies and Systems
Surrender Strategy– Once you have been dealt your original two cards and the dealer up turned card has been considered, you can surrender or forfeit and thus get to keep half your bet. This is an excellent strategy if you think your chances of winning are slim. When you submit, the dealer will remove half your bet, draw your cards, and place them in the discard pile.
Pair Splitting Strategy- If you are dealt two cards of the same value, you can split them. The two cards will become two separate bets if you decide to break them, and you will need to wager the same amount for your second bet that you did for your original hand. Knowing that not every opportunity to split pairs should be used is essential.
Doubling Down- Doubling down involves the player opting to double their bet after their initial two cards have been dealt. If a player doubles down, they will only be able to receive one draw card. This is an excellent strategy if it seems the dealer may bust, as you can potentially double your winnings.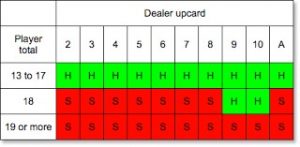 Insurance- Whenever the dealer deals an Ace as an upward-facing card for himself, he may offer for the players to make a separate insurance bet. The players that choose to bet will be betting that the dealer's second card will be a ten or picture card. The chance is lost if the dealer does not have a ten or picture card. This insurance can save you from losing your original bet if the dealer does get a natural 21.
Before you start beating Blackjack, you need to learn a thing or two. Some basic strategies are good to start if you play with a single deck.
If you have 8, then you should double on 5 to 6 or hit
If you have 9, then you should fold on 2 to 6 or hit
If you have 10, then you should fold on 2 to 9 or hit
If you have 11, then you should always double
If you have 12, then you should stand on 4 to 6 or hit
If you have 13 to 16, then you should stand on 2 to 6 or hit
If you have 17 to 21, you should always stand
If you have A,2 to A, five, then you should double on 4 to 6 or hit
If you have A, six, then you should fold on 2 to 6 or hit
If you have A, seven, you should double on 3 to 6, stand on 2, 7,8, or A, or switch on 9 or 10.
If you have A,8 you should double on six or stand
If you have A, 9 always stand
If you have A, A always split
If you have 2,2 you should always split on 3 to 7 or hit
If you have 3, 3 you should always break on 4 to 7 or hit
If you have 4, 4 you should double on 5 to 6 or hit
If you have 5, 5 you should fold on 2 to 9 or hit
If you have 6, 6 you should split on 2 to 6 or hit
If you have 7, 7 you should break on 2 to 7, stand on 10, or hit
If you have 8, 8 you should always split
If you have 9,9, you should split on 2 to 9 except 7; stand on 7, 10, or A
If you have 10, 10 you should always stand
If the casino allows doubling down after pair splitting, you should follow these rules:
For 2, 2 you should split on 2 to 7 or hit
For 3, 3, you should split on 2 to 7 or hit
For 4, 4, you should split on 4, 5, or 6 or hit
For 6, 6 you should split on 2 to 7 or hit
For 7, 7 you should split on 2 to 8, stand on 10, or hit
Top 5 Blackjack Tips
There are also a couple of rules that you need to master when you are playing online, and they are as follows:
Learn when to hit
when to stand
splitting
double the chips
Learn how to count cards slowly
Online Blackjack Variations – A Game Of Diversity
Since Blackjack is a viral game, a dozen variations follow the same rules but with a few twists. Some of these variations have become casino games, such as Double Exposure Blackjack, Double Blackjack, Pontoon, and Elimination Blackjack. Along with poker, Blackjack is probably the most popular type of card game in casinos worldwide. However, when we say Blackjack, we don't just refer to one game, as there are quite a few different variations of the game.
With casino games moving more and more to the online world, different blackjack variations have also found their place in online casino lobbies. Today, you will regularly find the likes of Spanish, European, and Pontoon Blackjack in most online casinos' entries.
We are introducing you to the most popular varieties of online Blackjack and the rules of the games and providing you with some expert tips on how you can make the best of playing online Blackjack.
Spanish Blackjack
Spanish Blackjack is a variation of the game you may not have encountered, and it's unlikely you will have experienced it in a brick-and-mortar casino. The game is played with a deck of 48 cards, and eight decks are used in a shoe. The 4 missing cards are the Tens, which are excluded from the balconies.
The dealer will always check his hole card for Blackjack if his up card is ten or ace. Additionally, the rules of Spanish Blackjack dictate that the dealer will always hit a soft 17. The player can double down on any number of cards and re-double down once. The player can also Surrender at any time, including once he has doubled down.
You can Split up to three times total to make up to four hands and Split and Re-Split Aces. You can also Draw or Double Down when Splitting Aces. The best thing about Spanish Blackjack is the bonuses you can earn when you get sure hands. For instance:
5 Card 21 pays 3 – 1
6 Card 21 pays 2 – 1
7 Card 21 pays 3 – 1
777 of Spades pays 3 – 1
Suited 777 when the dealer is showing 7 delivers 50 – 1
This makes for some exciting spots, and you will generally see players gamble it up a bit more in this game than in other Blackjack variations, hoping to hit some of these special payouts. Our best tip for the fun of Spanish Blackjack is to keep your strategy card close and not deviate from it, as you may be increasing the house edge dramatically with some plays.
The game has a house edge of just 0.38% when the player plays optimal strategy, which is very low and close to a break-even proposition. This is why you will see much more wins in a Spanish Blackjack game, which is generally much more player-friendly. The place where the casinos probably win the most in this game is from risk-taking players who try to defy the odds and strategy.
Hi-Lo-13
Hi-Lo-13 is a particular variety of the game of Blackjack. The game plays like a regular 2 deck Blackjack where the dealer Stands on 17 and draws on 16. However, the game comes with an additional twist, as other bets can be placed on the sum of your first two cards.
The way the game works in online casinos, there will be three betting circles in front of your regular betting circle. Once you place your average bet, you can bet on Lo, Hi, or 13. This means you are betting that the score of your first two cards will be lower, higher, or precisely 13. These bets pay as follows:
Winning Hi or Lo bet pays 1 – 1
Winning 13 bets pay 10 – 1
While this type of Blackjack is highly entertaining and exciting to play, the reality is that this is one of the worst blackjack games in terms of house edge and odds. In some casinos, the game is played with more than two decks, making the odds even worse. Betting on High, Low, or 13 will increase the house edge by a whopping 6 to 10%, depending on the exact game variety, the number of decks, and the bet you make.
The only real advantage of playing Hi-Lo-13 Blackjack is that the game carries some additional excitement, but with such an enormous house edge, it is tough to stick around for long as the side bets are a real bankroll drainer. If you wish to try the game out and test your luck, plenty of online casinos offer it, but be sure to stay conservative with your bankroll and be careful to quit in time.
Pontoon
Pontoon is a game very similar to your other Blackjack variations and is often considered an early version of Blackjack. You can generally find Pontoon on many Playtech casinos and Microgaming casinos online. There are some similarities and differences between Pontoon and the more common Blackjack variations. The basic rules of Pontoon include:
52 card deck
Same card values as in Blackjack
No dealer face-up card
The player can stand on 15 or when he has 5 cards of any value
Dealer hits soft 17
Ties lose
Instead of Blackjack, a player can hit a Pontoon in this game, which consists of an Ace and any card valued at 10 points. Pontoon is the most potent combination of cards you can get, followed by a five-card combination that has not busted. If neither the player nor the dealer has a Pontoon or Five Point Trick, hands under 21 are compared, and the higher hand wins. Any hand that exceeds 21 is busted immediately.
If you want to minimize the house edge, you should be sure to use a strategy card while playing the game. When you play optimally, the house edge in the game of Pontoon is 0.38%, while this edge can increase with a casino lowering the number of decks used to play or lower if the dealer is forced to stand on soft 17, etc.
Overall, Pontoon is one of the most player-friendly Blackjack games with solid odds and a low house edge and one we recommend giving a try as you can expect to have great fun and win with just a little luck.
Online casino operators such as Casino.com and Royal Vegas Casino offer Pontoon to players and big bonuses you can claim with a simple deposit using one of the many provided deposit methods.
Double Exposure
Double Exposure is another form of Blackjack often offered by online casinos that includes some significant rules changes compared to your more common Blackjack variations. The number one difference with Double Exposure is the fact that both dealer cards are exposed right away. The most important rules of Double Exposure include the following:
Both dealer cards exposed
Dealer wins ties
Blackjack pays even money
Only one split allowed
Other rules are variable, but they are all set to accommodate the dealer's disadvantage of showing both cards. Double Exposure usually comes with a slightly bigger edge than regular Blackjack games. However, the advantage is still reasonable, and the game is among the better ones to play in an online casino.
The double Exposure strategy is not one you need to learn by heart, especially when playing online, as you can always use the strategy cards to make the best decisions. As constantly not deviating from the optimal strategy is the way to go.
Others
The online casinos offer several other Blackjack games, including Surrender, Switch, and Progressive Blackjack variations. Every new casino you register with will usually offer a new Blackjack variation you may not have tried in the past. Royal Vegas Casino and All slots NZ Casino offer dozens of Blackjack variations.
Reasons to love online Blackjack.
Blackjack is easy to learn and enjoyable to play.
Blackjack offers a low house edge, and players can further lower it if they use blackjack strategies.
There is always a blackjack table to play available online.
Conclusion
Blackjack is a viral game among players because it is not just gambling that matters here; it is a game of skill, a game that is simultaneously challenging and exciting. The only thing left unsaid is that you should decently visit our recommended NZ online casinos and see for yourself. Join any featured casinos and immediately play the various Blackjack variations with massive deposit bonuses. Free cash offers are available with each new online casino in NZ you sign up at.
FAQs
Yes, blackjack has the lowest house edge among casino games, ranging from 0.19% to 1% when using proper basic strategy.
Yes, you can win money playing blackjack online. However, keep in mind that winning requires skill, strategy, and a sufficient number of hands to overcome short-term variance.
By making optimal decisions with favorable rules, the house edge in blackjack can be as low as 0.5%. Without a basic strategy, the edge can increase to around 8%.
Insurance is an optional side bet in blackjack, offered when the dealer has an ace face up. If the dealer's facedown card is a ten, the insurance bet pays 2 to 1.
Casinos typically prohibit the use of cell phones on the gaming floor to prevent potential cheating activities, such as communicating with confederates or capturing sensitive information. This rule helps maintain the integrity of the games and ensures fair play for all participants.
While counting cards is not inherently illegal, casinos have the right to refuse service to players who engage in this practice. They closely monitor players and employ countermeasures to deter card counting, such as shuffling the deck more frequently or using multiple decks.