Online Baccarat: The Whole Story
Baccarat lost the famous Sands Casino $250,000 on its opening night in 1959.
Baccarat is one of the oldest casino games and was originally only played by royalty, but it can now be found in most new NZ online casinos. Its origins can be traced to Italy and France as early as the 11th century and have similarities with the popular blackjack game. Both games are played with a standard deck of cards and table games. However, baccarat is slightly different as it is purely a luck game, and players can't make decisions that will affect the outcome of the hands as they can in blackjack.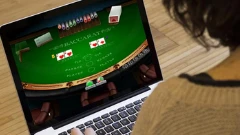 Baccarat is a game between two positions, the player and the banker. The dealer will draw cards for both, and other players will bet on who they think will win the round. The game works by the dealer dealing the bank and the player two cards each. The game's objective is to score 9 points; if either position has scored nine on these two cards, they will immediately win. If no player scores a natural 9, each player is dealt one more card, and the winner will be determined by their new totals. It is important to note that while the number cards hold their corresponding numeric values, 10, Jack, Queen, and King have zero values, and Ace has a value of 1.
Baccarat is a relatively simple and enjoyable casino game that is easy to get a feel for, even more so with our comprehensive guide!
Read More
Best Baccarat Casinos in New Zealand
When you play at a casino via one of our affiliate links, we may earn a small fee.
Baccarat Rules and How it Works
The first step for players is to find an NZ online casino that offers baccarat to play at. In a later section, we have listed 10 of the top baccarat online casinos. Players will then need to choose a baccarat game and start playing!
The player should then choose a chip size they are comfortable with; new players should play minimum bets until they get satisfied with the game. Once the player has their chip size set, they can place their bet.
Only three betting options in baccarat will be shown clearly on the screen: banker, player, and tie. Players will either be betting on the banker to win, the player to win, or for a connection. A tie bet pays the highest odds in the game, but it is risky as links are few and far between in baccarat.
Once the player is happy with their bet, they should press the 'Deal' button, and two to three cards will be dealt to each position.
Whichever position scores a value closest to 9 will win, and if the position you bet on is the winning position, you will win too! The dealer will then pay out winners, and the round will be over.
Players will now have the option to 'ReBet' where their bet size and position bet will remain the same, or they can press 'New Bet' to change the abovementioned aspects.
Baccarat Strategies and Systems
Baccarat is a game of luck, as there is no way of knowing what may be dealt with. However, players can apply a few strategies in their baccarat games. Many baccarat strategies can be used in other card games too.
Paroli Strategy- This is an exceedingly simple strategy that works on positive betting principles. This means that whenever a player wins, they should increase the bet by doubling it, and if they lose, they should keep their chance the same. The doubling of bets should only happen three times before the player reverts to their original single-unit bet. This is quite a conservative and widely used betting system.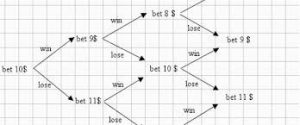 Fibonacci Strategy- This strategy is based on the well-known Fibonacci mathematical pattern, which appears numerous times in nature. The sequence of numbers in the Fibonacci way guides how players should increase their bets (only increasing when they have won a round).
The sequence goes as follows; 0, 1, 1, 2, 3, 5, 8, 13, 21, 34, etc.
The system is easy to follow, and players can add their previous two bets together to get their new chances. When the bets become uncomfortably large for the player, they can revert to their original 1 unit bet.
Reasons to Love Online Baccarat
Baccarat has good betting odds and low house edge percentages in most online casino games.
Baccarat is an easy game to learn and can be very enjoyable.
You can play online baccarat any time as you don't need to wait for other players to join the table.
FAQs
Online baccarat offers a more relaxed and casual environment compared to traditional casino settings. Players can enjoy the game without strict etiquette rules and freely express their excitement.
While it is possible to win in a single session of baccarat, the house edge ensures that in the long run, players cannot consistently come out ahead.
There are three main varieties of baccarat: punto banco, chemmy, and banque. Punto banco, or American baccarat, is the most common version played at most casinos. The full game is typically reserved for high stakes and larger bets.
Yes, keeping track of previous hands and their values in baccarat is a common practice for some players. However, it is important to note that each hand is independent, and past outcomes do not have any influence on future outcomes.
While baccarat has a favorable house edge of 1.06% on a banker bet, blackjack can offer even better odds with a house edge of 0.26% when played optimally. The simplicity of baccarat and lower chance for player errors make it an appealing choice.
When approaching a baccarat table, it's common to see players peeking at their face-down cards to see what they have before turning them over.