Balloonies Pokie Review
Game Information:
What comes to your mind when you hear of balloons? Let me guess. Most probably, your birthday or your wonderful wedding. Of course, they are colorful objects that color your event greatly.
Well. If you thought balloon animals were only made for only parties, then you are wrong. Can you imagine seeing those dazzling and colorful balloons in a gambling pokie? Won't it be a blissful moment? I bet it can be.
The good news is that the Balloonies Pokie is here for you. It comes with balloon animals that are not just colorful but also bring with it breathtaking and tasty bonus games.
Leave alone the bonus; this pokie allows you to win awesome prizes. And to succeed in this game, you must come across loveable animals such as elephants, giraffes, and monkeys.
That's not funny enough; the bonus is more enjoyable with Balloon Star Multipliers, Wild Balloon Hedgehogs Floating reels, and Pick-Me Bonus balloons.
We are not yet through. The Balloonies pokie provides you with an array of line bets to play. And one more exciting thing, you can play your game of choice from the comfort of your tablet or iPhone. Isn't that a great way to enjoy this kind of pokie?!
Meet the lovely animals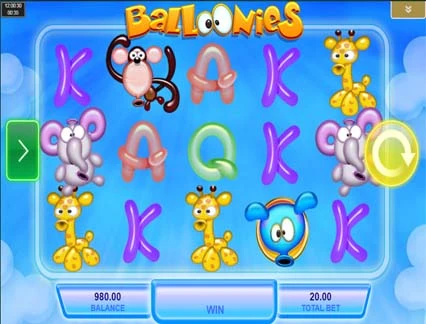 First, meet Genry, the baby Giraffe, and tell me whether it's not the cutest balloon you've ever seen. And when you are about to win prizes, this crazy giraffe protrudes its plenty of neck. Forget about the giraffe; meet Mia the Monkey and Ernie the Elephant, who will give you loads of prizes.
But wait. Beware of Henry, the hedgehog, because he can go wild, and he may annoy you by popping over your other award-winning balloonies with his prickles.
Balloonie Bonuses
The best thing about Balloonie pokie is that you can win great bonuses and prizes from the first day you set the go button on the game. The entertainer developing the game may warm up with some letter balloonies first. But don't be discouraged because even those are worth up to 50x the line bet you've staked.
What will amaze you is that Mia the Monkey can win you 500x your line bet, Ernie the Elephant can win you 400x your line bet, while Gerry the giraffe can hit win you 300x your line bet.
On the other hand, Henry the Hedgehog may pop up on reels 2, 3, and 4. And when he appears, he may sadly pop up in front of other balloonies. And don't get angry thinking that Henry is a bad thing. Not really. It's a good thing because he can serve as a wild symbol, allowing the other balloonies to make more winning paylines.
And you must note that the winning pay-lines may have Star Balloonies. If you happen to see a Star Balloonie, then you are lucky. Your prize will be multiplied by a rate between 2x and 5x. Sometimes, you may be fortunate to land up to 3 Stars. And when this happens, then the multipliers will be summed up, and your prize will be multiplied.
When you come across three bonus symbols, you can be awarded a whopping 40x your line bet. Apart from that, you will be allowed to choose from three balloons. Each of the three has a different meaning. When you choose one, it'll determine the number of Free Spins that you will be given.
It's also worth noting that all winning lines always trigger the Floating Reels Feature (This is similar to Tumbling Reels Feature, however, the symbol float-up). Unlike many other pokies, when you win in Balloonies Pokie, the entire winning symbols will disappear. However, they will be replaced with those that float up like ordinary balloons to fill the empty reels. Finally, the feature will continue until no more winning symbols can be replaced.
The Wide Array is a Spice of Life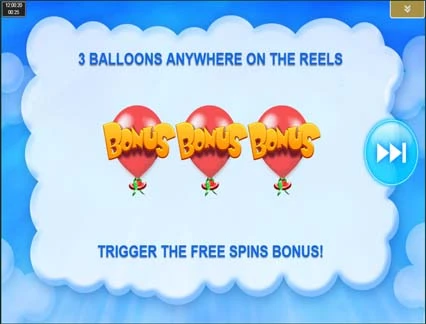 Do you usually buy balloons of the same color, even for your birthday? It can be tedious. Here comes the Balloonies Pokie, with various balloonies from which you can choose the one that raises your goosebumps. As if that's not enough, the pokie also comes with loads of line bets where you can select the one that impresses you.
Players love pokies with many paylines. Balloonies pokie comes with 20 paylines hence making it loveable. From there, you can choose any line bets ranging between 1 and 1,000 coins for each line. With that, this allows you to bet with a minimum of 20 coins a spin. Indeed, this pokie is the ultimate pokie for low-limit pokie players. And if you are a severe higher-rollers paradise, you can stake with a maximum of 20,000 coins a spin.
Our Take on the Game
What have you not liked about Balloonies Pokie? Is there any combination that you've not enjoyed? I don't think. I'm cocksure that soon you will be sailing in paradise!
Play Similar Pokie Games