eCOGRA Certified Casinos – Be Sure Games are Fair
The internet is dangerous, and the millions of frauds and scams that have occurred on it through the years are definitive proof of this. The casino industry is not immune to such fraud attempts either, and many casino brands of the past have been almost straight-up frauds in one way or another.
This can happen because many gaming companies are registered in small offshore jurisdictions, where many laws that would apply in New Zealand do not. This has seen many casino operators run off with the money or go under.
This is why independent certification agencies started appearing the moment online casinos did, and this has dramatically improved the security of online casinos. Casinos that carry seals from these agencies are usually much safer. While these certificates do not mean 100% safety, they significantly increase the chances of a casino being a straight shooter.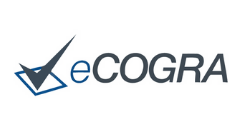 Best eCOGRA Casinos
When you play at a casino via one of our affiliate links, we may earn a small fee.
eCOGRA Certification
Regarding issuing safety certificates to online casinos, none come ahead of eCOGRA. The agency was set up in 2003 and operated from the capital of the UK, London. The eCommerce Online Gaming Regulation and Assurance is set up to regulate the online gaming market, protect customers from fraud and ensure all the casino's certificates are working fairly and transparently.
Some things that eCOGRA testing will confirm include the regularity of the random number generators a casino uses, the frequency of payments and withdrawals by players, how secure a casino software is to use, and what the casino is doing to protect underage gambling.
eCOGRA issues two types of accreditations. The online casino operators that undergo eCOGRA testing may receive the eCOGRA Safe and Fair Seal, which means that eCOGRA testing has determined the casino to operate within the regulations, pay the players on time and run games that are fair and not fraudulent towards the players.
On the other hand, the eCOGRA Certified Software Seal is issued to casino software developers and means that the developer has undergone extensive testing by eCOGRA specialists and is safe to play, and pays the players in the way it is intended to, without any unfair advantage.
Having one of these seals is a great thing for the casinos and software providers, and most big gambling companies invite eCOGRA to test them independently, as this seal goes way further to prove to players that the casino is safe than any promise a casino could give on their part or receive elsewhere.
Example of a Percentage Payout Review
Jackpot City Casino publishes once a month their RTP (return to player) and RNG (random number generator) eCOGRA reports calculating the average percentage payouts for the various casino games. The figures are independently audited, and the statistics on these reports reflect the percentage of player winnings to the total amounts wagered for the month under review. This is how we determine our top-paying online casino in NZ.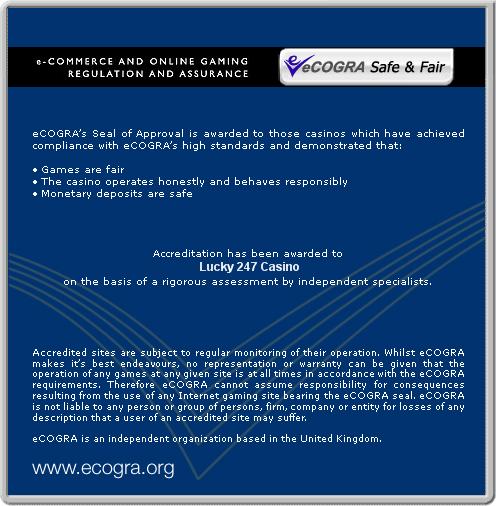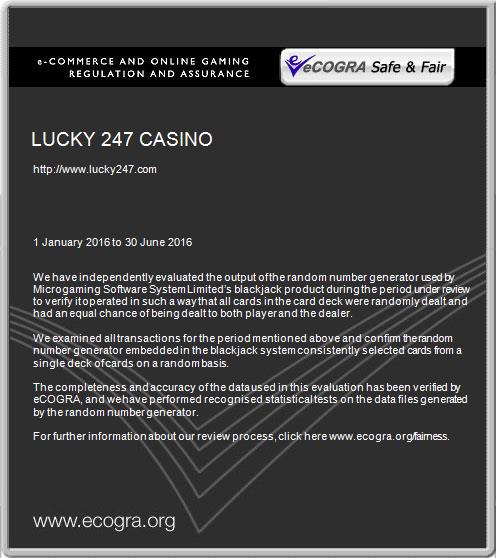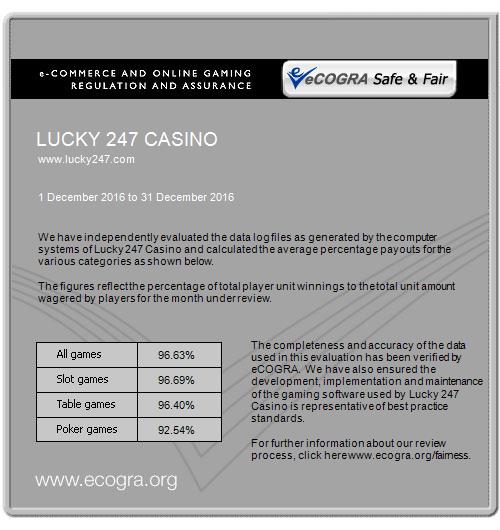 Why Choose eCOGRA Casinos
For an NZ online casino player, there could be nothing more important than the safety of the funds and information he entrusts the casino with. For this reason, you should always look for eCOGRA seals with every casino you are thinking of joining.
eCOGRA does not vouch for your money or the safety of your information, as they could not possibly do this. Still, the testing performed by this agency comes close to ensuring that the casino is safe, well funded, pays out its players, and will not try to cheat you in any way.
Most of the finest casinos in the world own eCOGRA seals, and the fact these vast brands look to eCOGRA to certify them certainly means something. We recommend that you always check for eCOGRA seals at a casino, and once you spot one, you can be assured that you are dealing with a severe company.
The Certified Software eCOGRA Seal
While it is essential for a casino you are playing to have an eCOGRA seal of safety, it is equally important that the games you are playing are supplied by an eCOGRA-certified software provider who owns the Certified Software Seal.
The process of software certification is a yearly process that ensures that the provider is creating software that is flawless and made to be fair to the players. This is done by eCOGRA specialists who run comprehensive tests on the software in question to ensure that it is a working and simple software that is being maintained and updated correctly and that any issues are addressed immediately upon discovery.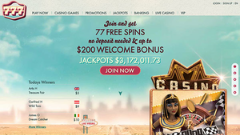 While checking if your casino is certified by eCOGRA, check out if the software they are using is eCOGRA approved, as this will ensure you are playing entirely fair games and there is nothing shady going on.
Start Playing With eCOGRA Casinos Today!
Check out our list of new casinos and find the best eCOGRA-certified ones to join. While there is never a guarantee with anything on the internet, an eCOGRA certificate is undoubtedly the best clue that an online casino works according to all industry standards and in a fair fashion. Have fun playing at the safest online casinos in the world!
FAQs
Reputable online casinos proudly display eCOGRA's seal of approval on their website, typically at the bottom or on their About Us page. If it's not visible, consider choosing a different site for a hassle-free experience.
eCOGRA employs a team of qualified auditors from various fields, including legal, financial, business administration, and IT. They adhere to international auditing standards to assess casinos' compliance with set standards.
eCOGRA certified casinos offer player protection, mediation for disputes, 24/7 support, deposit limits, and uphold industry standards with 15+ years of experience.
We strongly advise against playing on non-certified online gambling sites, as they lack guarantees of safety and responsible gaming. Your money and personal information may be at risk.