Casino History Part I: Europe & the Birth of the Casino
Gambling is about as old as time itself, and you could easily imagine the first troglodytes making bets on who would get squished while out Mastodon hunting next. As a species, we love elements of chance and opportunity. If you take a chance, you might just come out on top. Of course, there is always the chance of losing everything, including your shirt, on a dice roll, but that's all part of the fun of living. As Jim Morrison once famously said, "No one here gets out alive" (although he probably stole it from someone else).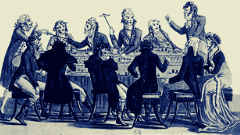 The Birth of The Casino – Casino History in the Making
Most of us know what a casino is and what goes on inside it, but how many know where it actually comes from? At some point, you've probably asked yourself what Casino History is, maybe even while contemplating your next move at the roulette or blackjack table.
Well, did you know, for example, that the word 'casino' was an Italian word originally? In Italian, the word 'casa' means 'house.' By adding the '-in part to it, a description for a small house, usually built on the grounds of a much larger palazzo or villa, was created. In other words, 'casino' refers to a small country villa or summerhouse. In some circles, the word is also referred to as a social club. However, during the 19th century, more and more people began to use the word about actual 'houses of pleasure' that were open to the public. These pleasures included various social activities such as dancing, drinking, listening to music, and gambling. This is what we do today, except that they wore ball gowns, tuxedos, and funny shoes.
Fun Fact: Not all casinos were created for gambling. The Copenhagen Casino, for example, was a well-known theatre in the Danish capital and was a popular meeting place for planning the 1848 revolution, which led to Denmark becoming a constitutional monarchy. It remained a famous theatre up until 1937. The Hanko Casino, located in Hanko, Finland, is another example of a casino not used for gambling. The Hanko Casino was a banquet hall used by the Russian nobility when visiting the local spa resort of Hanko during the 19th century.
The World's First Real Gambling House & Casino
The Ridotto
Interestingly, the first recorded evidence of a gambling house (the term 'casino' would only come later) was in 1638 in Venice, Italy. The Great Council of Venice ostensibly set up the gambling house to provide its citizens with some government-controlled (legal) gambling during the famous Venice Spring Carnival season. The house was known as the Ridotto(the Private Room in Italian) and resided in a closed-off wing of the San Moisè Palace. The Ridotto lasted for over a century until it was eventually shut down in 1774 when the Venetian authorities decided that gambling had too much of a negative effect on its citizens.
The Casino di Venezia Casino History
In parallel, the Casino di Venezia is the city's oldest casino still operating today. The Casino di Venezia is the oldest functioning casino in the world at 400 years and is located within the Ca' Vendramin Calergi on the Grand Canal and was built in 1509. However, it only became a casino in 1638. The casino is a significant tourist attraction, with thousands of visitors visiting the grand old dame not just for gambling but to absorb some of the most beautiful examples of Renaissance architecture ever created.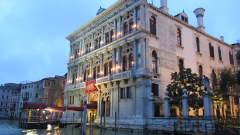 For many, Casino di Venezia represents the pinnacle of European casino gambling and is a must for all true casino gaming enthusiasts. The casino offers traditional French games, including Chemin de Fer, Roulette, and Trente et Quarante. The more modern side of the Casino di Venezia accommodates American casino games, including Caribbean Stud Poker and Texas Hold 'em Poker. Blackjack is also available, and around 600 slot machines are located on the premises. The luxury and elegance of the Casino di Venezia cannot be overstated enough; one feels inspired not just by the games, the tradition, and the breathtaking Renaissance architecture but also by the sheer scale of the interior, complete with a substantial collection of period sculptures and paintings and incredible, iridescent chandeliers.
Not so Fun Fact: Sadly, the great classical composer Richard Wagner died in the Casino di Venezia at 69. The famous composer collapsed apparently of apparently sudden heart failure. The casino houses a fascinating museum in his honor, the Museo Wagner (Wagner Museum). The museum contains an extensive collection of personal manuscripts, letters, and other artifacts.
When Life Imitates Art
In a scene plucked straight out of the Italian Job, a group of balaclava-wearing robbers made off with over 100,000 Euros during a daring raid at the Casino di Venezia in 2010. What makes this even more daring and like a scene from a heist movie is that the robbers ditched their getaway car in the sea before continuing their escape on a speedboat!
Other Famous & Historic European Casinos
The Casino de Monte Carlo History
For many, this establishment was built in 1856; it's the ultimate idea of a casino. It's opulent, glamorous, and the place to be seen if you're rich and famous. It was initially commissioned by Princess Caroline of the House of Grimaldi to keep her family from ending up in the poor house.
Casino Baden-Baden
Originally a spa known as the "Kurhaus" or "cure house," the building that would later house one of the most famous casinos in all of Europe was built on the edge of the Black Forest in South-West Germany in 1766. The Casino Baden-Baden took off after France banned gambling in the early 1800s. As a result, many of Europe's aristocracy visited the spa town to gamble and have fun.
Fun Fact: Casino Baden-Baden was the inspiration for Dostoyevsky's novel The Gambler, one of the most famous novels that feature casino themes as a central theme.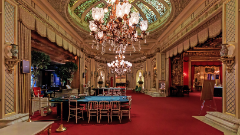 Crockford's Club
Not to be outdone by their mainland European cousins, casino gambling in the United Kingdom thrived during the same period. One of the more famous casinos was Crockford's Club, established in 1826. Casino gambling in Britain was the preserve of the wealthy upper classes and was referred to as clubs and not casinos at that time. William Crockford established Crockford's Club with support from the Duke of Wellington as a safe place for the elite of society to gamble only. Entry was by membership only, and not everyone qualified to become a member.
Casino History Part II: America & the Modern Era
No country in the world has played a more prominent role in promoting casino gambling in the modern world than the USA has. This has as much to do with the natural American entrepreneurial spirit as with the Hollywood movie machine. As a direct result of these elements, people worldwide know that fortunes and futures can be made overnight if you visit Atlantic City in the east or Las Vegas in the West. These are the twin cities of American casino gambling, and both offer opportunities beyond your wildest dreams. Moreover, both share a similar history of overcoming the odds, a chequered history with organized crime, and a new and modern expansion based on corporate investment.
Impress Your Friends: You can impress your friends the next time you play Poker, blackjack, or any other card game. The very first set of playing cards that were machine printed in Europe came from the printing press of none other than Johannes Gutenberg. Yip, the same guy that published the world's first edition of the bible published playing cards for the gambling industry first! Not too sure how that's going to go down with your local clergy.
The Seeds of American Casino History Gambling
Some may find it surprising, but casino gambling took a while to take root in America. The first forms of gambling, particularly in major cities like Chicago, San Francisco, St Louis, and New Orleans, took place in saloons or bars. This was where everyone went to unwind, have a few drinks, and play a few hands of Poker. However, gambling was banned early in the twentieth century, as a new moral movement swept through the country. It wasn't until 1931 that the state of Nevada legalized gambling, paving the way for America's first real casinos.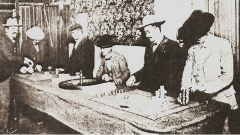 Las Vegas, Nevada Casino History
No other city is as famous as Las Vegas for gambling and having fun. Also known as Sin City, Las Vegas is a place where anything is possible and anything can, and does, happen.
The First Casino in Las Vegas – The Golden Gate Casino
Not many people know this, but the first actual casino to open its doors in Las Vegas was not the Tropicana or The Sands. The first casino in Las Vegas was the Golden Gate Casino, opening in 1906 and still operating today. This was long before legalized gambling when the West was still pretty wild.
Fun Fact: Las Vegas comes from a Spanish phrase, "The Meadows." The name came about during the 1800s when traders moving goods from Mexico to Los Angeles used that area as a watering hole.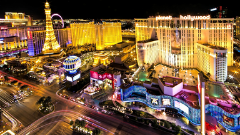 Atlantic City, New Jersey – "The World's Playground"
If Las Vegas was the Wild West, then Atlantic City was the Wild East. Originally established as a health resort by doctor Jonathan Pitney, the town quickly expanded into a seaside holiday resort on the East Coast.
Boardwalk Empire
In 2010, HBO released a show about Atlantic City called Boardwalk Empire. The show became a hit and was loosely based around a real-life person named Enoch' Nucky' Johnson (renamed Enoch' Nucky' Thompson in the front). While much of the show is fabricated for dramatic effect, much is also based on facts. Atlantic City flouted federal prohibition laws during the 1920s and 30s and became a haven for those who wanted to drink, party, and gamble. While Atlantic City did experience a steady decline during the late 70s and throughout the 80s, the city bounced back and is now one of the leading destinations for casino gambling. The city is home to many famous casinos, including the Golden Nugget, Tropicana Atlantic City, Hard Rock Hotel & Casino, and many others.
If you're looking to visit a land-based casino but can't venture to the USA, try visiting one of these local casinos in New Zealand.
Why Our Love for Casino and Casino History Will Never Die
The story of the modern casino is fascinating and entertaining, and it shows us the need to socialize with others of a like mind and test your skills and bravado in games where the odds are stacked against you. If you have enough nerve and are good with Lady Luck, you could change your life forever.
We would only reach that point of advancement with the rich Casino History that came before it.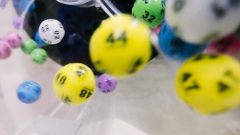 The idea of changing your fortune in an instant is nothing new; there are countless stories across many cultures of ordinary men and women who changed their fortune (and consequently their future) by taking a risk, seemingly against the odds. We all love watching people win millions in slots or lottery games because some small part of us automatically puts ourselves in their shoes. That 'what if' fantasy, where fortune could smile on you with equal measure if you play your cards right.
In medieval times, alchemists would experiment with all sorts of chemicals in the hope of turning lead into gold. We can't seem to let go of this idea, and it's what motivates many to take a small amount of their money, take their chances on the tables or the slots, and hope to turn their modest amount into a king's ransom.
Casinos are deeply embedded in our pop culture and have been for decades. Hundreds of Hollywood movies feature casino scenes to a greater or lesser degree. Some movies revolve entirely around the casino industry, both good and bad. From mob movies and heist movies to rom-coms and feel-good rags-to-riches stories, casinos are often the heart that drives the narrative forward.
Today, we live in an incredible age where you don't have to live anywhere near a casino to experience what it's all about. Online casinos in NZ are the modern version of the old Las Vegas dream, and they can be experienced down under. As long as you have a fairly decent computer and a reliable internet connection, you have just as much of a shot at millions as anyone in a Las Vegas casino. Heck, you don't need to use your computer anymore these days. Thanks to mind-blowing advances in mobile technology, you can play virtually any online casino game directly on our mobile device, anywhere, anytime.
Nowadays, online casinos have become some of the most extravagant and fun activities you can partake in; you are welcome to check an excellent example of a respected online casino in NZ in our SkyCity casino online review.