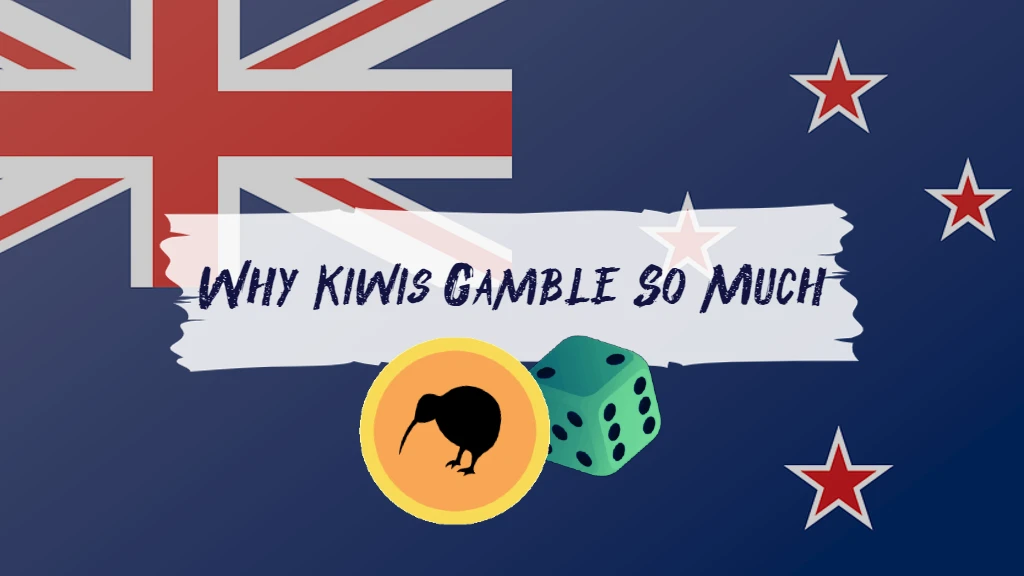 Why Do New Zealand People Gamble So Much?
New Zealand is among the leading nations where the rate of gambling is significantly high. Gambling is the primary entertainment activity for many people in New Zealand. A portion of people gamble to get entertained, but a large percentage of people play games to try their luck and win some money on top of getting engaged. Data regarding New Zealand gambling is available from three primary sources.
To begin with, there are administrative collections where data are gathered in process ancillary to taxing or licensing. Second, there are specific data produced through prevalence surveys towards gambling. Some data emerge from general statistical systems, including the input-output studies conducted for casino control authorities. The first and second categories are the most developed and reliable information sources regarding New Zealand gambling. 
After the introduction of the first gambling center in New Zealand in the '90s, the primary reason why people gambled remained unchanged. Specifically, many people gambled to win money during this period. However, this is still the main reason why most people in New Zealand gamble, the New Zealand gambling culture has changed. You will now find many people who gamble for other reasons, such as fun, socializing, and supporting charity. 
Interesting Facts And Statistics About NZ Gamblers
Many people in New Zealand enjoy buying the odd Lotto ticket, having a day out at the races, or playing online pokie games. However, NZ gambling comes with a lot of consequences. Below are some interesting facts and statistics about New Zealand gamblers.
New Zealand gambling statistics show that in 2020/2021, New Zealanders spent over $ 2.6 Billion, and a more significant percentage of this amount was spent on pokie machines.
In 2018, approximately 76,000 New Zealanders aged 15 and older were at high risk of harm from gambling.
The overall harm due to gambling is more significant than common health conditions like arthritis and diabetes.
Cultural beliefs and superstitions, underemployment, migration, and acculturation issues are known contributory factors to gambling problems among Asian people.
Individuals who use pokies regularly or bet on sports/ racing frequently are more likely to be at risk. 
50 % of New Zealanders who use pokie machines in pubs or clubs may experience some harm from their gambling.
One out of four people, or 25% of people who bet on racing events or sports at least monthly, risk suffering gambling harm.
In 2018, 13% (roughly 520000) of adults aged 15 and above in New Zealand participated in gambling. 
In the same year, 2018, 1 out of 5 adults in New Zealand gambled online in the previous 12 months. The most common form of online gambling in this period was buying a Lotto New Zealand product.
Statistics show that in New Zealand, online gamblers are more likely to be at risk of some level of gambling-related harm than individuals who do not gamble online.
The Popular Activities for NZ Gamblers
The most popular activities for New Zealand gamblers include.
Video Poker: one of the most popular NZ gambling activities is video poker. Video poker refers to a casino game that is, to some extent, similar to pokies in that you spin reels to reveal symbols. The only thing that makes video poker different is that it includes a specific element of skill. This is mainly because playing video poker allows you to retain or replace a particular symbol to establish a better hand. 
Pokies: Also referred to as fruit machines or slots, They are the most common gambling activity in New Zealand and are available in all NZ online casinos. One significant factor that makes pokie games very popular in New Zealand is that they are the simplest to play, and if you are lucky enough, you can take home a good amount of money. 
Keno: Another popular gambling activity in New Zealand is Keno. Keno is similar to lotto, played using numbered cards, where every player selects the number they want to use up to the maximum. After that, the gambler must register their tickets before the game begins. Keno is fun to play and does not need much skill; it is all about random chances and luck. 
Roulette: this game is available in almost every casino in New Zealand. What makes Roulette in casinos great is that it is easy to play and offers numerous betting options, and I am making it a perfect choice for all kinds of players. 
Blackjack: The last on the list of most popular activities for NZ gamblers is Blackjack. What makes Blackjack popular is its high return-to-player rate. To win consistently, you need to have some strategy and skills, thus a perfect choice for professionals.
Bottom line
This article gives an overview of New Zealand and begins by providing detailed information regarding gambling in the country. Interesting facts and statistics about NZ gambling and popular activities for New Zealand gamblers have also been discussed in this article.