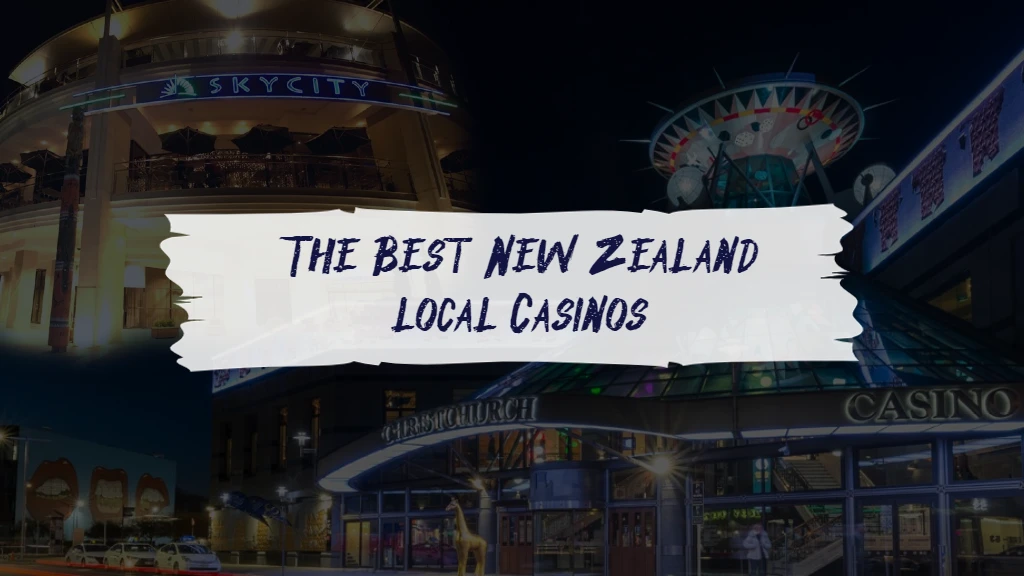 The Best New Zealand Local Casinos
New Zealand may be a small country, but when it comes to gambling, it offers a thriving gambling scene to all players. While the first casino in the country opened at Christchurch in 1994, gambling dates back to 1835 when European settlers brought horse racing. Flash-forward to 1987 to the introduction of slot machines (pokies) in pubs and hotels. New Zealand has become a playground for individuals who want to try their luck at the tables and slots.
Some Local Casinos to Find in New Zealand
There are six land-based casinos in New Zealand, with SkyCity Entertainment Group owning four of them, making it a significant player in the New Zealand gambling sector. Below is a list of all land-based casinos found in New Zealand
Christchurch Casino is the oldest land-based casino, located on the southern island of New Zealand and owned by SkyCity Entertainment Group. This local New Zealand casino offers visitors a whopping 500 pokies machine games and 45 table games. The most popular casino games like Poker, Blackjack, Roulette and many more are available to players in different variants. Gambling is not the only thing you will enjoy at Christchurch; there is also live music on weekends. Also, when you visit the Christchurch casino, you can relax at valley bar, piping hot coffee, or Monza sports bar for a delicious burger. The fantastic thing about this tremendous local casino is that it is open for visitors seven days a week.
Auckland's SkyCity Casino: It is the largest land-based casino in New Zealand and is located at the center of the second-largest city in New Zealand, Auckland. The New Zealand local casino has more than 150 table games and 2100 pokie game machines. The casino is open 24/7 throughout the year, and there is also an online version of the SkyCity casino.
Hamilton SkyCity Casino: The Hamilton SkyCity casino is an incredible casino that offers visitors a selection of the most popular casino games, a fantastic offer of live entertainment, great food, and a bar. It has 23 table games of popular titles such as Roulette, Baccarat, Poker, Blackjack, and beyond. In addition, Hamilton Skycity casino has a range of more than 330 gaming machines, and it operates 24 hours daily.
SkyCity Queenstown casino and Wharf Casino: The last option from SkyCity is the SkyCity Queenstown casino. It is a fantastic gambling center with 86 gaming machines and 12 table games. At this casino, you can enjoy different games such as Blackjack, Roulette, and Caribbean Stud Poker, among others. Boutique-style Wharf casino is nearby, and as the name suggests, the Wharf casino is located at the Wharf complex overlooking the beautiful Lake Wakatipu. The casino has more than 70 gaming machines and six gaming tables.
Dunedin Casino: For an incredible Monte Carlo feel, visit the recently refurbished Dunedin Casino found at the Otago harbor. The Dunedin NZ casino offers its players 12 gaming tables and 180 electronic gaming machines.
What You Find in Casinos Around New Zealand and What Makes Them Unique
Apart from the services of incredible and popular casino games, most land-based casinos offer several entertaining events, great restaurants, and bars. Of course, most of these New Zealand casinos are part of luxury hotels that provide all-inclusive treatment for visitors. A unique experience that you will not find in online casinos. Also, New Zealand local casinos offer private parking to visitors, not forgetting about the casinos' staff, who are welcoming, friendly, and always at your service.
Furthermore, when you decide to visit a land-based casino, you will have an opportunity to socialize with many people and learn a thing or two about gambling, which will help enhance your gaming skills. As illustrated, New Zealand land-based casinos have some fantastic and unique offerings which play a vital role in making gambling in New Zealand more attractive.
Local Compared to Online Casinos
Despite several similarities, land-based and online casinos have distinctiveness, charm, and substantial advantages. However, both will guarantee you a fantastic gambling experience. Land-based casinos give you an exceptional experience and feeling because of their unique and special charm. To be specific, away from a great atmosphere, some services come with land-based casinos, such as restaurants, luxury hotels, bars, and many entertainment events, which will make you feel special and enjoy. Also, land-based casinos allow you to socialize and meet real people around tables.
The human interaction with dealers and fellow players is tricky to replicate online. On the other hand, NZ online casinos offer the convenience of playing from the comfort of your home and on your mobile phone, thus allowing you to play your favorite casino game wherever you are at any time. Therefore, playing at a land-based or online casino offers unique experiences and advantages.