Play Online Casino at the Online GTA Casino
After a week of speculation, Rockstar has formally confirmed that GTA Online will soon open the doors of its Diamond casino. The release date is not yet confirmed, but it might be time you start saving up cash now, as you can go to town when Vinewood becomes a hotbed of high-stakes gambling and an even ritzier nightlife.
The GTA Online casino is not popular exclusively because it has stood in place since the game's launch but has never even opened its doors for a day. Several other buildings by GTA online have received players, but the casino has been kept shut to stop gamers from gambling away their money. But the story could potentially be changing soon. If it does change, it will change the traditional online casinos as we know them now. I wonder if we'll start seeing only healthy casinos operating as virtual "land-based casinos" with animated buildings," and animated tables and dealers. Who knows, we'll live and see
GTA V was rated 18 during its launch, and players at the GTA Online casino are also meant to be over 18.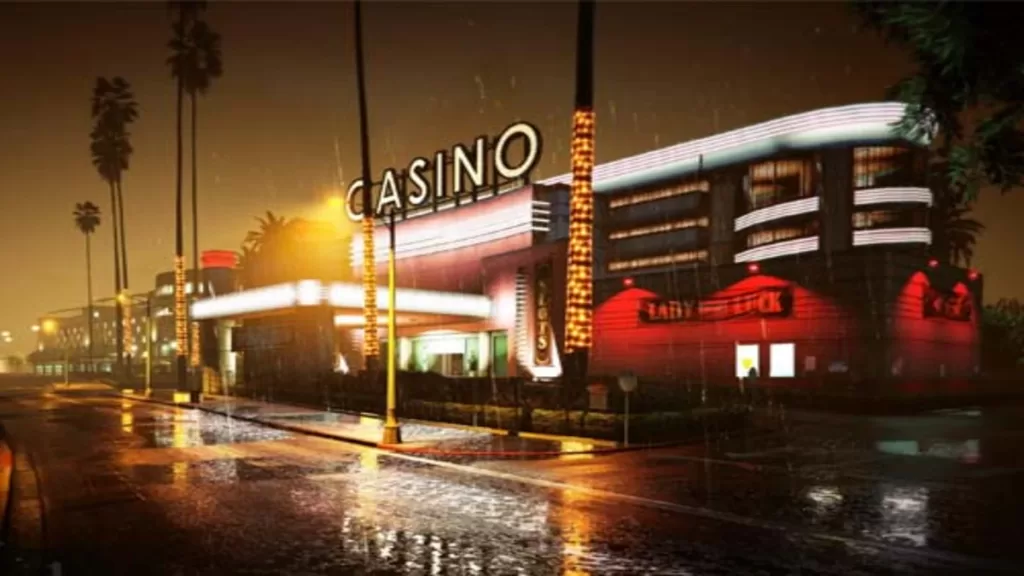 Keen players had noticed changes in the game around the neglected site over the past few weeks, suggesting the renovation work was underway.
Last week, Rockstar confirmed a luxury casino would open via a ten-second teaser posted on Twitter. Still, it has officially confirmed the news and the name of the new establishment.
The set off frenzied speculation that it would open this week, but Rockstar has confirmed that it will open later this summer.
Rockstar developers say the Diamond Casino & Resort will offer extravagant amenities, first-class entertainment, exclusive shopping, and state-of-the-art gaming facilities.
The casino will also offer valet parking, the best concierge, the excitement of rotating the Lucky Wheel for a chance at big prizes, and a variety of sophisticated table games.
With the references to exclusive shopping and other premium entertainment, there is a chance that the casino will become the game's biggest hub paving the way for new shops and activities. These games could cross over from Red Dead Redemption 2.
Horse Racing Games
According to MR Boss FTW, the GTA and Red Dead Redemption 2 content creator, the new casino would include horse-racing games. e game still has no horse-related animals or vehicles in over five years. Ts is a bit odd, considering the previous release of Red Dead Redemption, and one would think that it would be pretty easy to include them.
MrBoss FTW believes that the game could include horses for several reasons. One substantial reason for this is a big horse-racing track behind the casino. He adds that the game could devise a live horse racing course for both players and spectators.
MrBoss also said that the grandstand resembles what was used in the Arena War Update, where users could watch matches from above. This suggests that it could be possible for you to spectate the horse races and bet on the outcome.
Also, this would make sense since the asset exists, the in-game implementation exists, and the developer has experience in horse-based games, considering the success of Red Dead Redemption.
Poker Games
In addition to horse racing, it is expected that the casino would also offer poker. In Red Dead Redemption online, players can gamble in games against each other or computer-controlled players, and they can only bet in-game dollars, which can only be spent or received in the game. Rea Dead allows its players to buy Gold Bars that they can use to purchase specific things in the game, but you cannot withdraw the in-game money.
Gambling Money
GTA Online, however, allows players to buy dollars directly from as little as £8 per 1 million. As a result, it is expected that Rockstar will devise casino chips or anything similar to prevent players from gambling with real money.
However, as with Red Dead Redemption, there is no way of withdrawing money from GTA Online once it gets into the casino. So if you beat the house, you can only live it up in the virtual world.
The Grand Theft Auto Series of games is one of the most successful franchises in video gaming history. The most recent iteration is the GTA V, which was released in September 2013, and sales an excellent $1bn within the first three days. The game has offline and online aspects, which are constantly updated. Their announcement that the provider was opening a luxury casino in the future has caused some controversy.
Players can own and operate the casino as they can with nightclubs and dealerships in the game and can play at these casinos.
As we are unsure when the casino will finally throw its doors open, it is best to stay tuned for the next weeks or months for updates on the development.