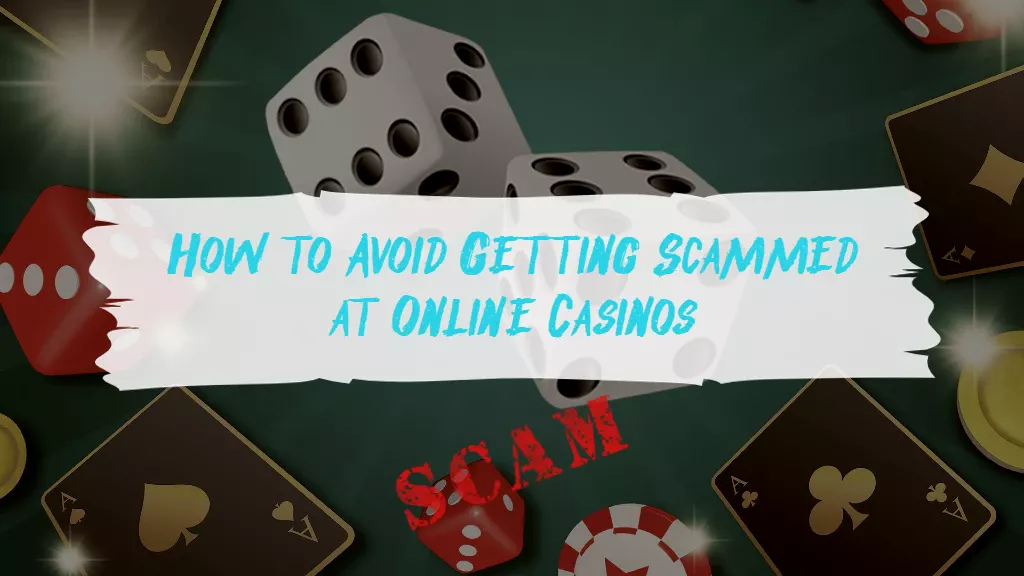 How to Avoid Getting Scammed at Online Casinos
Online casino scams describe any action carried out at a gambling site that ranges from rigging the house edge to stealing personal information. Off course, this sounds scary, but if you clearly understand how online betting works, you will be in a position to limit the chances of becoming an online casino fraud victim significantly. In short, to protect yourself from online casino fraud, all you need is to be knowledgeable enough on what to look out for to differentiate between a credible and an online scam casino. Read on to find out how to avoid getting scammed at online casinos.
Tips to Avoid Common Casino Scams
Before beginning your gambling career, you should understand how to avoid getting scammed at online casinos. To avoid casino fraud, you need to understand some basics regarding gambling platforms' safety and how you can distinguish between a legit and a scam casino. Here are several tips you should use to avoid scamming online casinos.
Customer support: One of the tips you can use to avoid falling victim to online casino fraud is to check if the casino you have chosen has customer support. That is not all, be sure to test if the communication methods offered are working. Do not fear to make a phone call, chat, or even send an email to the customer support team to verify the credibility of the online casino you want to gamble at.
Check online reviews about the casino: Checking what other people say about the casino you have chosen to gamble at is perhaps one of the best methods of confirming whether the casino is legit. By checking online, you will be able to get genuine casino reviews about the experience other people had while using that site.
Licensing: Another tip you can use to avoid getting scammed at an online casino is to make sure you choose a gambling site that has been licensed. Getting information about casino licensing should not trouble you; it is always indicated somewhere on the site, mainly at the bottom of the casino's website. If the casino does not say anything about the license or the licensing body, take this as a warning sign and walk away.
Start with minimum deposit: Do not make a massive deposit after registering at a new online casino. It is good to start with a minimum deposit casino that you will use to play and understand the casino better. This way, you will know whether you can have your winning at the casino and if the winnings are settled on time. Depositing a considerable amount at a gambling site you don't know anything about is risky, and you can lose all your money.
Signs of a Scam Casino
It would be best to watch several online casinos' red flags to ensure that you only gamble at trusted gambling platforms, thus limiting your chances of losing your hard-earned money or revealing your sensitive details to fraudsters. You need to be very careful because the red flags and signs are almost impossible to detect if you do not know precisely what you are looking for. The scamming tactics mainly target new gamblers who are likely to be tempted by attractive offers, which are scams in disguise. Some of the red flags to assist you in noticing a scam casino include:
Slow withdrawal process
You can't find the return to player (RTP), or it is shallow
You are being asked to provide personal data
Lack of customer support
Bonuses that appear too good to be true
Famous Games and Events Where Casinos Scammed the Casino Player
Several cases of casinos scamming or trying to scam players have been witnessed over the years. Some of these cases include
Lucky 18 casino: This casino had a reputation for not paying players their winnings even after making a withdrawal request. The casino owner was arrested in 2009 in Israel and charged with operating an illegal gambling site. In 2011, the place was closed.
In 2009, a gambler won $4.1 Million at Joyland casino. When she tried to make withdrawals, she found that she was only allowed to withdraw $9000 every month, meaning it would take her 39 years to get all paid out. When she voiced her frustration to the casino, they asked her whether she would be willing to take only half of the total amount that would be paid immediately. The gambler took the deal, and the casino was left with $2 million that was not theirs.
Closing Comments
The gambling world is full of online casinos; some are not legit. Therefore, understanding how the online casino world operates is essential in ensuring you avoid getting scammed. This article has discussed the different indications of a scam casino and the common tips you can use to know whether a casino is legit or a scam.